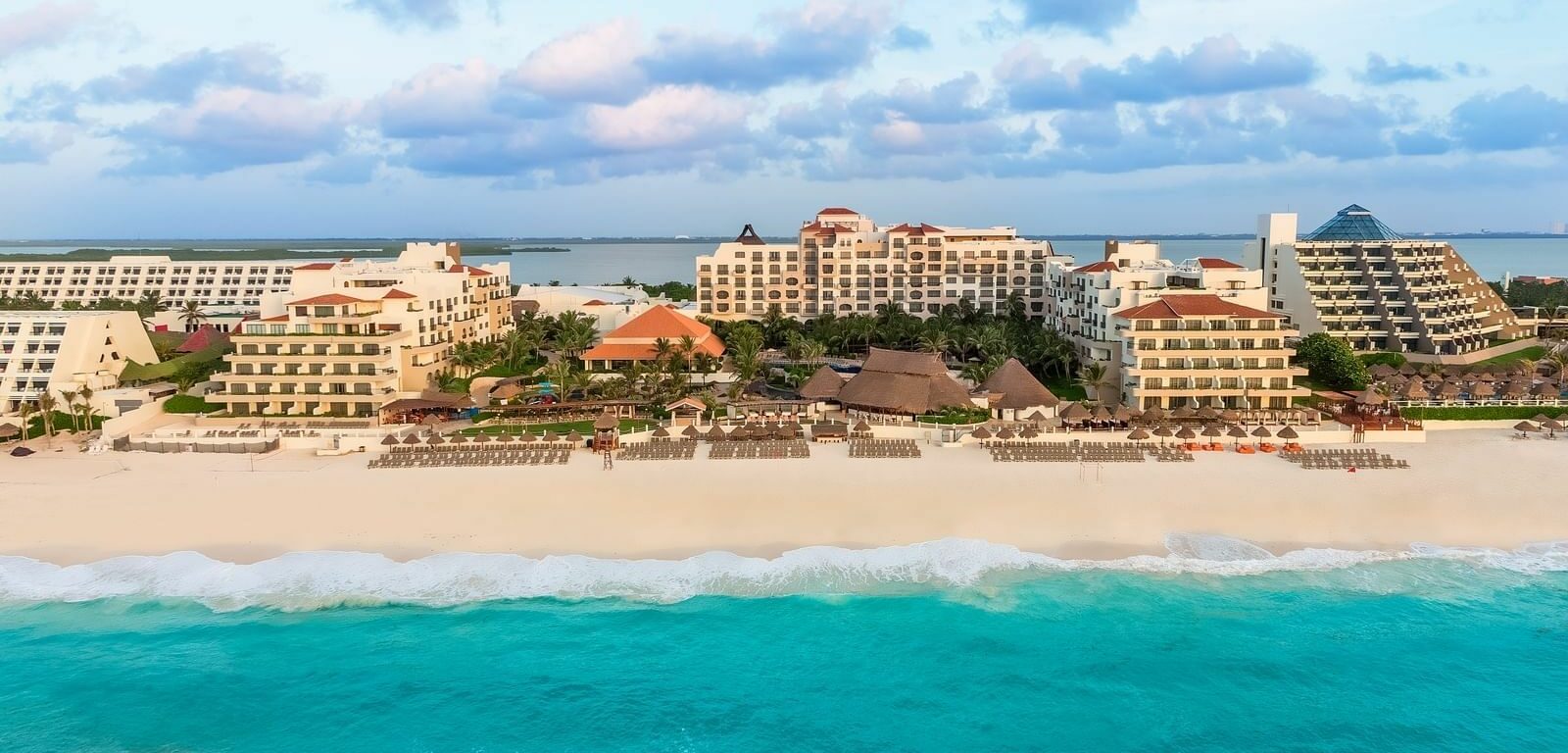 January 8-13, 2024
Leave the cold wintery weather behind and join Tom Pettit and Garrett Batty in the sunny and warm tropical weather of the Mexican Riviera Maya. From a family-friendly five star all-inclusive resort, Tom will share with you his most favorite stories and lessons from Church History. His stories will transport you to the sacred places of the Restoration, but without the January weather of those New England locations! Located on the soft white beaches of Mexico, enjoy an uplifting, spiritual, and memorable experience with Tom Pettit and Garrett Batty. Click Here for a daily itinerary and presentation topics.
Enjoy 6 days/5 nights at the Fiesta Americana Condesa All-Inclusive deluxe resort in Cancun, Mexico.
Like a cruise ship, the unlimited meals, snacks, and drinks, along with all the great resort amenities, activities, and entertainment are included with the single purchase price. The resort is located right on one of the most gorgeous beaches in Cancun and caters specifically to families. Please visit the resort website for all the incredible information about the property and accommodations.
Take a look at our testimonials and see what others are saying.
Please click here for our Detailed Itinerary.
Monday, January 8:

Arrive in Cancun and be transported to our 5 star All-Inclusive resort just 20 minutes from the airport.  The Fiesta Americana Condesa is rated as one of the best resorts in Cancun. "All-Inclusive" means just that!  Everything the resort has to offer, including the food, drinks, activities, and entertainment, are all included in the registration price (spa services cost extra).

We will meet for a fireside tonight and preview what we are going to be doing, learning, and seeing throughout the week.

Tuesday, January 9: 

Enjoy presentations throughout the day from Tom Pettit. Please click the "detailed itinerary" link below for a full list of presentations which will take place at the resort.

The rest of the day is set aside to enjoy the beautiful resort. The resort has endless amenities and activities to enjoy.  Many people come to the resort for a week and never leave, but you may want to head into Playa Del Carman or Cancun for shopping and site seeing.  Or you may want to do nothing but read a book while sitting on the white sand of the beach.

Later, sit back and enjoy an exclusive showing of Garrett Batty's latest movie. You'll see it before it is released to the public!  As the movie's writer, director, and producer, you will have a unique opportunity to hear Garrett share the "behind-the-scene" details of brining this extraordinary movie to life!

Wednesday, January 10: 

Today we will visit the ancient Mayan city of Chichen Itza, one of the Seven Wonders of the World! The Kukulkan Temple at Chichen Itza stands over 70 feet tall. Kukulkan is the name the Mayans gave to Deity. Kukulkan is represented by a feathered serpent. This astronomical wonder was designed so that at the Spring and Winter Equinoxes, the rising and setting sun will cast a shadow in the shape of a plumed serpent that slithers down the Northern side of the pyramid to the serpent's head at the base. We will also see one of the largest Ball Courts in Yucatan and many other ancient structures at this fascinating site. Chichen Itza was built after 550AD.

Our tour guides are members of the Church. While traveling to Chichen Itza, they will share with us the history of the Church in Mexico.

This tour also includes an authentic Mexican lunch buffet featuring some of the best Mexican food you've ever tasted!

This day trip is eight hours in length and is included in the price of the tour. Air conditioned private transportation, bottled water, lunch, entrance to Chichen Itza, and personal tour guides are included. A credit toward the cost of your trip will be provided if you choose at the time of registration to not visit Chichen Itza with the group. 

Thursday, January 11: 

After our full day of touring on Wednesday, we have set Thursday morning aside as a day to relax at the resort.  You may want to relax at the pool, the beach, play a round of golf, read beneath a palm tree, or do many of the other exciting activities the resort offers!

Tom Pettit will continue with his presentations throughout the afternoon. Please see the "detailed itinerary" link below for a list of his topics.

Friday, January 12:There is so much to choose to do this morning. You may want to sleep late, or enjoy the beauty of the resort. Or, you might want to join in on one of our group activities. We have arranged three group activities for this morning which you can choose from:

Visit the ancient Mayan ruins of Tulum with local guide ($85)
Street shopping in Playa de Carman ($35 for the private transportation)
Snorkeling and authentic local lunch ($85)

Tom Pettit will continue with more Church History stories and presentations in the afternoon. Please see the "detailed itinerary" link below for a list of his topics.

We have another rare treat tonight to have a private screening of a Garrett Batty movie. After the movie, Garrett will then entertain us by sharing the significant of the story and the unique way the film came about. This will be a spiritual highlight of the week. 

Saturday, January 13: You are welcome to continue enjoying the beautiful resort until it is time to catch your shuttle to the airport. Please inquire about staying extra nights for an additional cost.
Register Here | Testimonials | Detailed Itinerary
Pricing is per person, based on occupancy:
Double Occupancy: $1,499 per person
Single Occupancy: $2,299
Pricing includes: 6 days and 5 nights in a Junior Suite at the gorgeous All-Inclusive Fiesta Americana Condesa, participation in our seminars and movie screenings, and our group tour of Chichen Itza. As a guest of the resort, you will have free and unlimited access to all the restaurants, entertainment, and recreation which the resort offers (spa services cost extra). Please click here for all the details of the resort.
Join Tom Pettit for a spiritual and uplifting experience on the Riviera Maya in Mexico. Learn more about Tom Pettit by visiting his Blog, Youtube Channel, or by visiting our About Us page. Tom's unique focus on teaching Church History is to help you draw closer to the Savior by applying the lessons learned from these historical events to your own daily life. Tom has led thousands of people on Church History Tours over the last 10 years. He has been teaching the gospel to youth and adults continuously for the last 22 years by serving as a Gospel Doctrine teacher, in Elder's Quorum and Young Men presidencies, as Stake Young Men's President, High Councilor, and as a counselor in the Bishopric.  He is the author of Adam-ondi-Ahman: Sacred History.  Promised Future.  Tom served his mission in Australia. He and his wife Lesa have five children and live in Lehi, UT.
Garret Batty bio: (coming soon!)
What is an All-Inclusive Resort: You may be more familiar with a cruise than an all-inclusive resort. Like a cruise, an all-inclusive resort offers you unlimited food, drinks, entertainment, and access to amenities. Everything is included for one cost.  However, a cruise provides a small cabin, crowds, noise, booze and casinos, and not too much flexibility for our schedule. An all-inclusive resort offers unlimited food & drinks, spacious accommodations, a beach that never leaves, less crowds, peace & quiet, space to yourself, flexibility for our group schedule, a desirable atmosphere, world class restaurants, and endless options of things to do on your own time. Everything, except airfare, is included with your all-inclusive tour rate.
Airfare: Would you like to fly round trip from Salt Lake City with the group? We can add you to the group flight and escort you from the Salt Lake airport to the resort, and back to Salt Lake. Prices for the group flight will be announced in July 2023. Let us know on your registration form if you are interested. If you are not  flying from Salt Lake, or if you wish to fly on your own, just let us know your flight details and we will let the resort know when to expect you.
Chichen Itza Tour:  This is not a "Book of Mormon Tour".  Although some Mayan religious beliefs may sound familiar to you, I do not promote one "Book of Mormon Geography" theory over another. Chichen Itza was built long after the close of the Book of Mormon. The ancient Mayan culture and architecture will leave you amazed!
Booking Requirements:  $300 per person is due at the time of registration.
Terms and Conditions: All rates are per person. If making your final payment by credit card, please add 3% for the bank transaction fee. Final payment is due October 8, 2023. 100% refunds are available prior to that date.
Passports: Passports are required for this trip. Passports can take up to 8 weeks to arrive so please plan ahead. If you do not have a passport, please click here to begin the passport application process.
Click Here to read what others are saying about our tours!
Space will sell out quickly so make your bookings soon!