Coming Soon!
Join Tom Pettit on a spiritual journey as we visit St. George, UT! We will attend the St. George Temple Open House, witness the Broadway musical The Hunchback of Notre Dame, and visit four Church History sites. As we travel between Salt Lake City and St. George, listen to Tom tell hours worth of stories about the early Saints who settled Southern Utah.

Click Here for a list of all our Church History Tours

R

egister Her

e

 | Testimonials

Wednesday:  We will depart from the Salt Lake area aboard a deluxe chartered motorcoach. As we travel, Tom Pettit will tell fascinating stories of Southern Utah's rich Church History. This afternoon, we will tour the Jacob Hamblin Home, and the St. George Tabernacle. Tonight, we will attend the Broadway Musical The Hunchback of Notre Dame at the Tuacahn outdoor theater.(Dinner provided)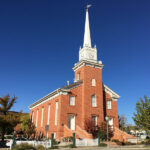 Thursday:  Our day will begin by attending the St. George Temple Open House. Following lunch, we will tour the Brigham Young Home. After a spiritual uplifting day, we will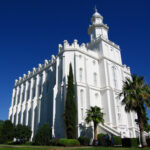 return to the Salt Lake City area around 7:30pm. (Breakfast provided)
Register Here | Detailed Itinerary | Testimonials
Pricing is per person and based on occupancy:
Double Occupancy: $399
Triple Occupancy: $369
Quad Occupancy: $349
Single Occupancy: $579
Prices include: personal tour guide/historian, air conditioned deluxe chartered ground transportation, hotels stay, meals as indicated above, on bus history presentations, Broadway show ticket. Price does not meals as indicted, or bus driver gratuities.
Join Tom Pettit and visit the sacred sites of Southern Utah! Learn more about Tom Pettit by visiting his Blog, Youtube Channel or by visiting our About Us page. Tom's unique focus on these tours is not to just teach the history, but to help you draw closer to the Savior by applying the lessons learned from these historical events to your own daily life. Tom has become a student of the information taught on this and his other Church history tours. He has been teaching the gospel to youth and adults continuously for the last 25 years by serving in various Church callings. He is the author of Adam-ondi-Ahman: Sacred History.  Promised Future.  Tom served his mission in Australia. He and his wife Lesa have five children and live in Lehi, UT.
Booking Requirements: An initial payment of $50, per person, is required to confirm your reservations, and can be paid when completing the registration form. This payment is applied to your total amount due.
Terms and Conditions: All rates are per person and based on hotel room occupancy. Prices listed are cash/check prices. If you wish to pay by credit card, the bank's 2.9% transaction fee will be added to your final balance. There is no fee to use a card when registering.
Buses:  Our deluxe chartered bus provides the best comfort available for our journey.  We only charter the best buses and also the best professional drivers. We will only take one bus on this tour. Having one bus allows our guide to spend the whole day with you telling the history, doctrine, and stories. Plus, if you join a tour with more than one bus, you end up spending all of your time waiting in line for meals and the restroom!
Click Here to read what others are saying about our tours!
Space will sell out quickly so make your bookings soon!