One of the stops we make while on the Book of Mormon cruise is at the ruins of Tulum, Mexico.  These ruins offer some of the most spectacular views of any ruin site since these ruins sit on top of high cliffs overlooking the Caribbean Sea.  It is here at Tulum that we visit  The Temple of the Descending God.  The center picture shows a carved representation of the Descending God which the Mayan people worshiped.  The image is like a child being born with its head down.  This image is not only found at Tulum, but throughout Mesoamerica.  The frequency of this image throughout several ruin sights indicates that the story of a Descending God was so significant to the Mayans that it was taught throughout the land.
This temple was built in alignment with the morning star, the planet Venus and the sun.  At the vernal equinox, the light shines through the temple and illuminates the inner Holy of Holies and shines directly under the Descending God announcing his coming to the earth.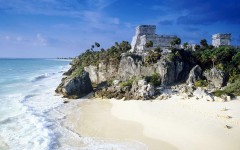 Learn more about the Mayan belief of a Descending God and their other religious beliefs that support the Book of Mormon on one of our upcoming Book of Mormon Cruises.
Tom Pettit